Hall Flooring of Connecticut - Hall Contracting Corp. - 305-2 West Avenue Stamford CT. 06902 - 203.274.8542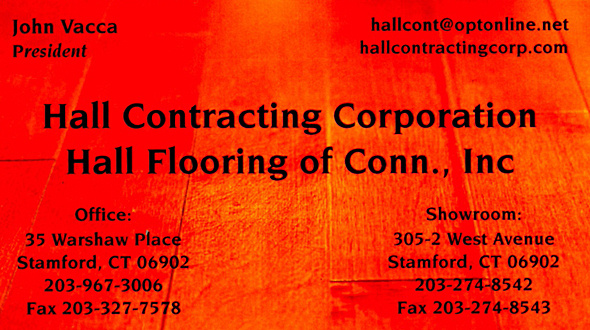 Our strength as a company comes from our dedication to customer service. We believe that for us to succeed and grow, the goodwill and satisfaction of our customers is essential. We will make your flooring project educational and pleasant.
We follow the industry standards as set by the NWFA and all manufacturers recommendations. We explain why we follow these standards and how they benefit you. There will be no shortcuts taken when doing your job. We are detail oriented and meticulous in our approach to each installation.
I, and our company manager, Dom Serrano, have over 35 years of combined experience in the wood flooring business and Dom Is a NWFA Certified Wood Flooring Inspector. Our experience and knowledge ensure your complete satisfaction.
Please call or email us at any time to discuss the right way to go about your flooring project so you will smile every day you look down.
John Vacca, President
"When you want the job done by professionals that wont pull the rug out from under you"
THE LONG ISLAND WEB
THE LONG ISLAND NETWORK
LONG ISLAND LOCAL MAGAZINES
THE LONG ISLAND WEB PHOTO GALLERIES